Posts for tag: tooth loss
By Dental Choice
June 08, 2020
Around 178 million Americans are missing at least one tooth. The most common reason for losing your teeth is tooth decay. If tooth loss is not treated it can have serious consequences for your health. Dr. Irving M. Phillips Jr. and Dr. Wade Dressler are dentists at Dental Choice, in Easton, MD. You can meet with them to discuss your treatment options for tooth loss.
The Negative Impact of Missing Teeth
Missing teeth cause the following negative consequences:
Affecting the aesthetics of your face: Missing teeth don't only affect your smile, but if you're missing several teeth, it can affect the shape of your face. Also, the skin around your mouth can begin to sag and wrinkle, so that you look older than you are.
Making it difficult to eat: When you have several teeth missing, biting and chewing are difficult. If you are unable to chew your food properly, this can lead to digestive problems.
Affecting your speech: Gaps left by lost teeth can affect the way you speak.
Lowering your self-esteem: Many people who have missing teeth feel the emotional consequences such as lost confidence and low self-esteem.
If you have missing teeth, consider dental implants to restore your smile and the functionality of your teeth.
Easton residents that have chosen dental implants as a solution for missing teeth have found the following benefits:
They look natural: Dental implants are designed to look just like your own teeth. They have the same functionality and are much more comfortable than dentures.
They are reliable and long-lasting: If you take good care of them, dental implants can last a lifetime.
They provide improved functionality: Because they are anchored to your jawbone, dental implants always stay in place allowing you to eat and speak with ease.
They improve your facial features: Say goodbye to sagging lips and hollow cheeks. You face will look youthful and evenly balanced. Dental implants also restore the structure of your jawbone.
If you live in the Easton area and you would like to find out more about dental implants you can Dental Choice at (410) 822-4310.
By Dental Choice
April 24, 2020
Is an empty space from a missing tooth causing you to be concerned about your appearance? Are you having trouble chewing? Are you suffering from altered speech? If so, you are probably looking for the perfect solution to replace missing teeth. Dr. Irving Phillips and Dr. Wade Dressler at Dental Choice in Easton, MD, are here to help find the right solution for you.
Problems with tooth loss
Teeth help to stimulate the jaw bone. If you are missing teeth, the bone that supported them is no longer stimulated and will deteriorate.
Missing teeth will leave gaps for the remaining teeth to shift and move. This shifting can impact your entire bite.
Bite irregularities impact the health of your remaining teeth, your gums, your head and neck, your jaw muscles and joints.
Gaps between your teeth can cause ineffective chewing, which then can affect digestion.
Your teeth support the structure and shape of your face. Missing teeth can impact facial aesthetics.
Missing teeth can affect your speech, making it difficult to pronounce certain words. You may experience slurring, whistling or even spitting when speaking.
At Dental Choice in Easton, MD, we can help you avoid all these issues. There are different ways to replace missing teeth, restore proper functioning, and regain your beautiful smile.
Dental implants

Dental implants are titanium posts that are surgically positioned into your jawbone. After the implant has been placed, it fuses with the bone over several months, acting as the root for the missing tooth. A dental crown, bridge, or dentures can then be attached to the implant. The process of fusing the implant with the bone (osseointegration) supports the jaw bone as much as the crown.
Dental implants offer an alternative to dentures or bridgework without implants. Because they are inserted into the bone, they have the advantage that they don't slip while you chew or talk. Compared with bridges, where the neighbor teeth could be compromised, implants do not harm the surrounding teeth
To learn more about how we at Dental Choice in Easton, MD, can help restore full functionality to your smile with dental implants, call us at (410) 822-4310.
By Dental Choice
May 16, 2019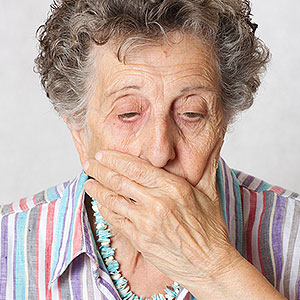 Tooth loss is a problem that affects many seniors—and since May is Older Americans Month, this is a good time to talk about it. Did you know that more than a quarter of adults over age 75 have lost all of their natural teeth? This not only affects their quality of life but poses a significant health risk.
According to a study in The Journal of Prosthodontics, significant tooth loss is associated with increased risk for malnutrition—and also for obesity. If this seems like a contradiction, consider that when you have few or no teeth, it's much easier to eat soft, starchy foods of little nutritional value than it is to eat nutritious fresh fruits and vegetables. If all of your teeth are missing, it's especially critical to replace them as soon as possible.
There are several ways to replace a full set of missing teeth, including removable dentures, overdentures, and fixed dentures:
Removable dentures are the classic replacement teeth that you put in during the day and take out at night. (However, if you suffer from sleep apnea, research has found that keeping dentures in at night may help keep the airway open, so if you have this condition, be sure to mention it to your doctor and dentist it). Dentures have come a long way in terms of how convincing they look, but they still have some disadvantages: For one thing, they take some getting used to—particularly while eating. Also, wearing removable dentures can slowly wear away the bone that they rest on.  As that bone gradually shrinks over time, the dentures cease to fit well and require periodic adjustment (re-lining) or a remake.
Overdentures are removable dentures that attach onto a few strategically placed dental implants, which are small titanium posts placed in the bone beneath your gums. Strong and secure, implants prevent the denture from slipping when you wear it. Implants also slow the rate of bone loss mentioned above, which should allow the denture to fit better over a longer period of time. The ability to maintain hygiene is easier because you can remove them for cleaning.
Fixed implant-supported dentures are designed to stay in your mouth all the time, and are the closest thing to having your natural teeth back. An entire row of fixed (non-removable) replacement teeth can usually be held in place by 4-6 dental implants. Dental implant surgery is an in-office procedure performed with the type of anesthesia that's right for you. After implants have been placed and have integrated with your jaw bone—generally after a few months—you can enjoy all of your favorite foods again without worry or embarrassment.
If you would like more information about tooth-replacement options, please contact us or schedule an appointment for a consultation. You can also learn more by reading the Dear Doctor magazine articles "Overdentures & Fixed Dentures" and "Removable Full Dentures."