Posts for tag: pregnancy
By Dental Choice
December 31, 2021
Hearing the words, "You're going to have a baby," can change your life—as surely as the next nine months can too. Although an exciting time, pregnancy can be hectic with many things concerning you and your baby's health competing for your attention.
Be sure, then, that you include dental care on your short list of health priorities. It may seem tempting to "put things off" regarding your teeth and gums. But there are good reasons to keep up your dental care—for you and your baby.
For you: a higher risk of dental disease. Hormonal changes during pregnancy can trigger outcomes that increase your dental disease risk. For one, you may encounter cravings that include carbohydrates like sugar. Bacteria feed on sugar, which can cause both tooth decay and gum disease. This change in hormones can also trigger a form of gum disease called pregnancy gingivitis.
For your baby: dental-related complications. Some studies show evidence that a mother's oral bacteria can pass through the placenta and affect the baby. This may in turn spark an inflammatory response in the mother's body, creating potential complications during pregnancy. Other research points to what could result: Women with diseased gums are more likely to deliver premature or underweight babies than those with healthy gums.
Fortunately, you can minimize dental disease during pregnancy and protect both you and your baby.
Keep up regular dental cleanings and checkups during pregnancy;
Limit consumption of sweets and other sugary foods;
Brush and floss every day to remove dental plaque, which feeds bacteria;
See your dentist at the first sign of swollen, painful or bleeding gums;  
And, inform your dentist that you're pregnant—it could affect your treatment plan.
Although it's wise to put off dental work of a cosmetic or elective nature, you shouldn't postpone essential procedures. Both the American Dental Association and the American Congress of Obstetricians and Gynecologists approve of pregnant women undergoing therapeutic dental work.
Dental care during pregnancy shouldn't be an option. Maintaining your oral health could help you and your baby avoid unpleasant complications.
If you would like more information on dental care during pregnancy, please contact us or schedule an appointment for a consultation. You can also learn more about this topic by reading the Dear Doctor magazine article "Dental Care During Pregnancy."
By Dental Choice
August 28, 2020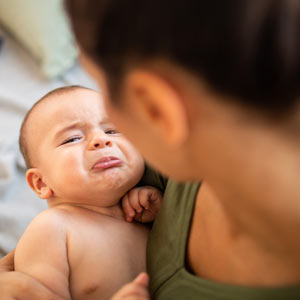 Most babies come into the world ready and able to nourish at their mother's breast—no training required! About one in ten children, though, may have a structural abnormality with their tongue or lip that makes it difficult for them to breastfeed.
The abnormality involves a small strip of tissue called a frenum or frenulum, which is found in the mouth connecting soft tissue to more rigid structures. You'll find a frenum attaching the upper lip to the gums, while another connects the underside of the tongue to the floor of the mouth.
Frenums are a normal part of oral anatomy and usually don't pose a problem. But if the frenum tissue is too short, thick or tight, it could restrict lip or tongue movement. If so, a baby may not be able to achieve a good seal on their mother's nipple, causing them to ineffectively chew rather than suck to access the mother's milk. Such a situation guarantees an unpleasant experience for both mother and baby.
The problem can be addressed with a minor surgical procedure performed in a dentist's office. During the procedure, the dentist first numbs the area with an anesthetic gel. The frenum is then snipped with scissors or a laser.
With very little if any post-procedure care, the baby can immediately begin nursing. But although the physical impediment may be removed, the child may need to "relearn" how to nurse. It may take time for the baby to readjust, and could require help from a professional.
Nursing isn't the only reason for dealing with an abnormally shortened frenum. Abnormal frenums can interfere with speech development and may even widen gaps between the front teeth, contributing to poor bite development. It's often worthwhile to clip a frenum early before it creates other problems.
It isn't absolutely necessary to deal with a "tongue" or "lip tie" in this manner—a baby can be nourished by bottle. But to gain the physical and emotional benefits of breastfeeding, taking care of this particular problem early may be a good option.
If you would like more information on the problem of tongue or lip ties in infants, please contact us or schedule an appointment for a consultation. You can also learn more about this topic by reading the Dear Doctor magazine article "Tongue Ties, Lip Ties and Breastfeeding."